Car Accidents
Our experienced San Diego auto accident lawyers at the Law Offices of David M. Boertje provide skilled and effective personal injury representation to motor vehicle crash victims who were hurt anywhere in San Diego County or the surrounding areas.
We have successfully dealt with many motor vehicle accident claims for drivers, passengers, pedestrians, and other bystanders with minor and/or catastrophic injuries sustained in car accidents, motorcycle crashes, truck accidents, or bus collisions. The Law Offices of David M. Boertje is known for our personalized legal representation and our strong record of results.
Are You Aware of the Long-Term Implications of Your Injuries?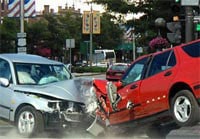 Our San Diego motor vehicle collision lawyers will work with you to obtain the maximum compensation for all damages, including medical costs, lost wages, future medical care, and pain and suffering.
To receive financial recovery for your auto crash injuries, you have to prove that another party was at fault. The Law Offices of David M. Boertje knows how to determine who was at fault, and we will work with our extensive network of experts and utilize other resources to ensure that you win your case and receive the maximum compensation possible.
No Legal Fees Unless We Win
Our San Diego motor vehicle crash lawyers handle all cases on a contingency basis, which means that there are no advance fees for our services and you will only pay us if and after we obtain your judgment or settlement. Any legal fees will come from an agreed upon percentage of your recovery.
Free Consultation With an Experienced San Diego Automobile Accident Injury Lawyer
We offer a free consultation to all prospective clients. We will make sure that you know your legal rights and understand your prospects for a successful outcome.
The Law Offices of David M. Boertje represents auto accident clients in Carlsbad, San Diego, and other cities in San Diego County. If you would like to schedule your FREE CONSULTATION to discuss your motor vehicle crash or another kind of personal injury accident, contact us online through our Web site, send us an e-mail, or call us today. We will get back to you as soon as we can.