Catastrophic Injuries
Catastrophic injury cases require the attention of personal injury lawyers that have the experience, resources, and knowledge to successfully deal with such cases. Loss of employment, destruction of interpersonal relationships, loss of self-esteem, loss of the ability to enjoy life, and the loss of the ability to complete routine tasks are just some of examples of how catastrophic injuries can be life-altering.
Our San Diego catastrophic injury attorneys realize that these kinds of injuries can be devastating, and we will work with doctors that specialize in rehabilitation medicine, life care planning specialists, and economists to ensure that our clients' needs are properly evaluated and assessed so that they can receive full compensation.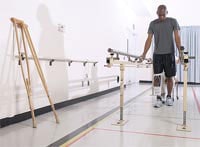 Serious and catastrophic personal injury claims often involve complex medical evidence and substantial monetary damages. A catastrophic injury can change a person's life forever, and he or she may require long-term medical care and attention. The costs that come with a catastrophic injury can be extraordinary and will usually exhaust most insurance coverage. If you are a catastrophic injury victim or your loved one is suffering because of a catastrophic injury, you need to work with a catastrophic injury lawyer who can help you secure the financial resources that you need to cope with your injury. Our San Diego catastrophic injury attorneys can help you obtain the maximum compensation that you are entitled to receive.
The Law Offices of David M. Boertje represents catastrophic injury clients, including people suffering from traumatic brain injuries, spinal cord injuries, amputation, paralysis, and other life changing injuries sustained in motorcycle accidents, car crashes, truck collisions, motorcycle accidents, or because of a medical malpractice accident or a defective product, including:
Neck Injuries
Head Trauma
Disfigurement
Serious Burns
No Legal Fees Unless We Win
Our San Diego personal injury law firm handles catastrophic injury cases on a contingency basis. You won't pay us for our services in advance and payment is only due after we obtain your settlement or judgment. At this time, our fee will be an agreed upon percentage of your financial recovery.
Ask for Your Free Consultation With a Catastrophic Injury Lawyer
The Law Offices of David M. Boertje invites all prospective clients to call us for a free consultation. We are experienced San Diego catastrophic injury attorneys that will make sure that you know your legal rights as a personal injury claimant/plaintiff and have an understanding of your prospects for a successful settlement.
Our law firm represents catastrophic injury clients in San Diego, Carlsbad, and in other cities throughout San Diego County. To schedule your FREE CONSULTATION with an experienced catastrophic injury attorney or to discuss another kind of personal injury case, call us or contact us online or send us an e-mail. We will get back to you as soon as possible.