Wrongful Death
In California, husbands, wives, sons, daughters, mothers, fathers, sisters, and brothers can file claims for "wrongful death" when another party's carelessness, negligence, intentional misconduct, or recklessness was the cause of death.
A wrongful death claim may be brought for any kind of accidental death, including:
Car accidents
Truck crashes
Motorcycle collisions
Bus accidents
Pedestrian accidents
Defective or dangerous products
Medical malpractice
Recreational activities, including sailing accidents, boating collisions, and airplane crashes
Exposure to toxic substances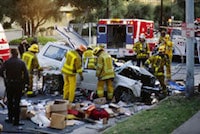 In San Diego County, the Law Offices of David M. Boertje represents surviving family members of victims that died in fatal injury accidents. You should not have to deal with the responsible wrongdoer, company, or insurance company by yourself. Our San Diego wrongful death lawyers will help you obtain financial recovery to help cover costs related to your loss and lost income. We want to help you secure your family's financial future.
Accidental or wrongful death can happen for many reasons and in a variety of situations. If someone you love has died because another party acted maliciously or was negligent, our San Diego wrongful death law firm will help you hold the liable parties responsible for your loss and make them accountable for the damages that your family has suffered. We will make sure that the responsible corporation or Insurance Company is held accountable and that a jury fully comprehends the scope of your loss.
Wrongful Death Compensation
Wrongful death survivors can receive economic compensation based on the loss of the decedent's financial support. Testimony is usually gathered from the decedent's employer to prove this loss. There are also specialists that can estimate how much income the deceased would have continued making. Economists can testify about a family's future income loss.
There may also be an economic loss even if the person who died does not bring in income for the family. The deceased may have provided a valuable service, such as the homemaker who cooked, maintained the home, and cleaned. A retired loved one may have been in charge of gardening, making home repairs, or babysitting. The death of a child or a teenager can be considered an economic loss because of the future income they would have earned to support the family.
Aside from financial loss, the greatest loss of all in wrongful death cases is the personal loss of a loved one. Losing a spouse, a child, or a parent is a devastating blow to any family. The loss of that person's love, comfort, care, companionship, guidance, and advice are the most devastating losses that must be compensated.
Our San Diego wrongful death lawyers know that every life has a value that far exceeds economic losses. Our experienced wrongful death attorneys know how to make a jury understand the financial, emotional, and personal scope of your family's loss.
An insurance company may already have tried to get in touch with you about your loved one's death. It is important that you not give them access to your records, agree to a settlement without talking to one of our wrongful death attorneys, or let them have access to your records. The negligent party's insurance company is not going to look out for your best interests, and they won't tell you what you need to know. You could end up barring yourself from being able to take legal action in the future and getting the full compensation for your loss.
No Legal Fees Unless We Win
The Law Offices of David M. Boertje handles all wrongful death cases on a contingency basis. You will never have to pay us in advance and you will only pay us for our legal services if we receive a settlement or judgment for you. When we win your case, the fee that you will pay us will be an agreed upon percentage of your settlement. You will only pay us upon the successful conclusion of your case and from the compensation we obtain for you.
Free Initial Consultation With a San Diego Wrongful Death Lawyer
Our wrongful death lawyers offer a free initial consultation to all prospective clients. When you work with the Law Offices of David M. Boertje, you are working with experienced San Diego wrongful death attorneys. We will make sure that you know what your legal rights are and that you have an understanding of your prospects for a successful outcome.
The Law Offices of David M. Boertje represents wrongful death clients in San Diego, Carlsbad, and in other cities throughout San Diego County. To speak directly with an experienced wrongful death attorney or discuss any other kind of personal injury case, call us to schedule your FREE CONSULTATION or contact us online or send us an e-mail. We will get back to you as soon as possible.